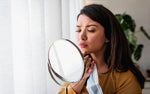 The new normal requires us to wear masks regularly and for longer periods of time in some cases. While we're covering up our mouths and noses to stop the spread of COVID-19, some of us are uncovering a new problem — maskne, or mask-related acne.
Protecting your face with a mask creates a moist, hot environment for your skin, as your breathing is being trapped. This can lead to a build up of sweat and oil on the skin under the mask, which can lead to inflammation, rashes, and even acne breakouts.
So it is important that keeping your mask clean will help your skin be healthy as well. A dirty mask counteracts any other prevention strategies you have done. Overall, it's really important for us to recognise that wearing a face mask does create a new set of problems for our skin.
Here are some other Mask tips we have learnt along the way to help you better manage the side effects of mask wearing.
Mask Tips
Be sure to wash masks prior to wearing them for the first time
Since a mask rests on your face, harsh chemicals and fragrances in your detergent can cause a skin reaction. Using a hypoallergenic and fragrance-free is a good option, and you can also add a splash of white vinegar, which is a natural antibacterial, antiviral, and antifungal agent
Wash fabric masks in preferably hot water (at least 60 degrees Centigrade/140 degrees Fahrenheit) at least once a day
If it is not possible to wash the mask in hot water, then wash it in room temperature water, followed by boiling the mask for 1 minute
Hang your mask in direct sunlight to dry completely. If you cannot hang it in direct sunlight, hang or lay it flat and let it dry completely
Choose light coloured or reflective coloured masks as opposed to darker colours because light colours reflect heat. It's important because you want to keep the skin cool. This is also to prevent further irritation and accumulation of moisture
So if you want to increase the rate of evaporation, a textile that has treatment with a higher evaporation coefficient is going to be beneficial
Take a 15-minute "mask break" every four hours, although you should remove your mask only when it is safe to do so, like in an open area and being 6 meters apart from anyone. Many healthcare workers say this practice has helped them to better protect their skin.
For more information on maskne, you can refer to our earlier article for the write up on Fight Breakouts Caused By Long-term Wearing of Masks (Maskne) as we will talk about Mask Lip (a new term for dry chapped lips caused by mask wearing) and facial eczema care in this article.
Mask Lip
Now that wearing a face mask is rightfully required to go anywhere, our lips are battling a whole new challenge. Our covered pouts are currently getting no fresh air. Our lips are basically suffocated by our own warm moist trapped breath combined with sweat, saliva, nasal droplets that accumulate in a high humidity occlusive environment – especially when you're speaking under the face mask leaving us with dry, chapped, lackluster lips. Do you have chapped lips from wearing a mask?
'Mask Lip' is a colloquial term for cheilitis, a form of lip eczema, coined to describe the excessively dry and chapped lips that can arise from prolonged wearing of a face mask.
The skin of the lips is different from the skin on the other parts of the body because it's a lot thinner. The constant contact of salivary enzymes also means that the nature of the skin cells is slightly different. That is why it's able to tolerate the acidity of the digestive enzymes.
Lip Care Stick
You can prevent chapped lips by applying Dr Hauschka's lip care stick which is moisturizing and protective even for the most sensitive lips.Our Lip Care Stick is packed full of nourishing oils and waxes to keep your lips silky soft throughout the day. This practical and valuable companion is always on hand to provide nourishment and protection against environmental influences. Using only quality ingredients like shea butter and botanical oils like almond oil and never petroleum jelly which is cancer causing.
For lips in need of extra care: Dr. Hauschka Lip Balm
Our rich Lip Balm is a pot of intense nourishment. It provides soothing and nourishing care for the delicate skin of the lips.The medicinal power of carefully selected plant extracts like Calendula and St. John's wort extracts repair and renew even dry, cracked lips and corners of the mouth, while real silk powder gives the lips a velvety feel and ensures a long-lasting warm, floral scent. Intensive care for beautiful, soft lips. Dr. Hauschka Lip Balm also provides extra protection against extreme weather and is the perfect companion for the sauna.
Soothing Lip Care for eczema
Soothing Lip care is especially good for people who have a skin condition called atopic dermatitis (eczema) who are at higher risk of developing cold sores. When your lips feel tight or tingling, signalling the arrival of a cold sore, give them a dose of special care with Soothing Lip Care from Dr. Hauschka MED. It cools and relaxes the delicate skin of the lips, preventing inflammation and supporting regeneration. Applied early enough, Soothing Lip Care can prevent the emergence of cold sores. This product can also be used as daily lip care to prevent cold sores from developing in the first place.
Sensitive or Eczema prone facial skin
For people with very sensitive skin or existing eczema, the struggle with wearing masks becomes even more agonizing for them as the mask traps humidity due to our breathing and sweating, which further aggravates the existing skin condition they have.
Eczema often appears on the skin as redness, flaking, or pressure sores, or even oozing and crusting in more severe cases, which often leave scars.
The systematic medical skin care from Dr. Hauschka MED has been specially designed for and tested by people with very dry skin and atopic dermatitis. The results confirm that all products are superbly effective and even very well tolerated by young children.
This medical range from Dr. Hauschka provides fortifying nourishment for very dry, flaky, tight skin, leaving it feeling soft and relaxed with no greasy shine. The formulation of pressed ice plant juice activates the skin's own moisturising abilities, while high-quality botanical oils fortify its natural barrier function. The valuable freshly pressed juice of the ice plant replenishes the skin's moisture levels for longer, while precious white poppy oil provides instant relaxation. The combination of botanical oils is perfectly tailored to the needs of facial skin that is very dry or suffering from atopic dermatitis. The easily absorbed face cream provides noticeable and lasting relief from dryness, reduces tautness and prevents itchiness. Studies confirm excellent skin compatibility and results, even on atopic dermatitis. Ice Plant Face Cream is deliberately unfragranced and is also suitable for infants.
Apart from Face Mask, what are the other contributing factors to irritation on the Face?
Irritant contact dermatitis, however, can also arise from usage of acne creams which contain astringent ingredients. For example, retinoids, retinols, salicylic acid, alpha hydroxy acids. When they are applied on the skin under the occlusive environment of the face mask, the absorption of these active ingredients increases. This means that the irritation potential of the ingredient is then greater.
Another common example is benzoyl peroxide which is a common acne cream ingredient that is not suitable for use under a face mask. Principally, because it is highly caustic – so it can irritate your skin. Secondly, it is also because it bleaches fabrics.
Use Natural and Organic products
Dr Hauschka uses natural and organic products harnessing the power of Nature to transform and balance your skin. Paraben, sulphate, mineral oil and silicone free, the products are backed by an independent international company NATRUE which certifies that Dr Hauschka's products are truly natural and organic.
(See full details here.)
Using mostly botanical plant extracts and turning them into medically healing plants to heal, nourish and protect your skin against environmental influences achieving inner and outer beauty. Make the switch to Dr Hauschka - good for your skin, good for the world.