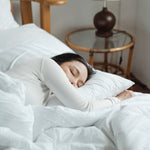 8 Tips to Maximise your Beauty Sleep
Getting our skin ready for the day involves so much effort. There is a lot on our bathroom counters to help you look great before leaving the house.
But what if one of the biggest secrets to better skin was as simple as laying down and taking a nap? After all, our body never stops working - even when we're asleep.
It turns out there's quite a bit of research and science behind the concept of beauty rest. Sleep is when some of the most important internal - and epidermal : regeneration takes place!
While you shouldn't fully abandon your daytime skin care routine in favor of getting more Zzz's, there are some easy ways to amp your skin-sleep relationship for morning results.
1) Get a full night's sleep
Adults need 7-9 hours of sleep a night. When you sleep, your body recharges, so you wake up feeling refreshed, revitalised, ready and raring to take on the day.
If you repeatedly don't get enough sleep, it shows in your face: 
hanging eyelids

swollen eyes

darker under eye circles

paler skin

more wrinkles and fine lines

more droopy corners of the mouth

general poor skin condition
During the night, your skin's natural replenishing and repairing cycle is active. If you want to look fresh as a daisy, make sure you get enough sleep each night because it's a powerful beauty treatment.
However, research shows that 1/3 of us sleep less than the recommended 7-9 hours a night. The good news is that you can make up for lost time...quickly. Recent studies have shown that just 3 to 4 hours or more sleeping in (yes sleeping in) can make up for sleep debt and reduce our tired sighs.
We've established how sleeping is a surefire way to help your skin repair itself: blood flow increases, collagen is rebuilt, and the muscles in your face relax after a long day.
But going to sleep with a dirty face can also harm the appearance of your skin.
Cleansing your face each night is arguably more important than in the morning — you don't need to use fancy products.. A gentle cleanser like our Soothing Cleansing Milk to remove dirt, makeup, and extra oil will do the trick.
You don't want to give the day's pore-clogging irritants the chance to sink in and do damage overnight. This can cause large pores, dry skin, rashes, inflammation or acne outbreaks.
Did you know that night creams impede your skin's natural regeneration and elimination activity during the night time? 
During the night your skin is metabolising and eliminating the day's waste, that's one of its many functions as the largest organ in your body. The night time rhythm of the skin is one of 'breathing out'.
Botanical extracts held in an aqueous solution support your skin during the night with organic rose apple based Night Serum or to support a maturing skin Regenerating Serum.
3) Get on a Sleep Schedule
Most experts recommend maintaining a consistent sleep schedule even on days when you are able to sleep in. This balances a person's internal clock, allowing them to stay awake when needed and fall asleep when ready. 
Your evening skin ritual of cleansing, toning and revitalising supports your evening schedule in readiness for bed as well.
4)Wind Down Your Brain
Try blocking out a daily "worry time" to get anxiety out of your system before bed. Make time just after dinner to plan your next day. Any thoughts you may have write them down, rather than keep mulling them over in your mind. 
You won't have to worry about all the things you need to remember if you use 'Reminders' on your phone. After that, you can relax and let go of anxieties before going to bed.
5)Avoid Hidden Sleep Wreckers
Caffeine can perk you up so avoid it after lunch if you have trouble sleeping at night. It can stay in your system for an average of three to five hours, but some people are affected as long as 12 hours. Watch your afternoon food and drink choices. Caffeine may hide in soft drinks, tea, and chocolate. Also be wary of certain medications, such as decongestants, which can aggravate sleep problems. 
Some people try natural methods to wind down their day. Used medicinally for thousands of years, chamomile brewed in tea is non-caffeinated and may help relax you for sleep. Or try aromatherapy. Studies have found that lavender produces relaxing and calming effects when inhaled. Our Moor Lavender Calming Bath Essence can be used as a foot or hand bath and can be used as a warm compress for your face and neck to calm and relax you.
6)Work Out Wisely
Regular exercise helps you sleep better, particularly in fresh air, aids a good night's sleep, as does yoga, tai chi, meditation. Aim to finish vigorous exercise 3 to 4 hours before you head to bed cos a post-workout burst of energy can keep you awake.
A gentle massage after exercising is a good self care routine. One of customers' favourite for night time use is the Moor Lavender Calming Body Oil that protects, warms and relaxes you to prepare you for the night.
7)Reduce Blue light Technology
The soft blue glow from the screens of devices such as tablets and smartphones or even the digital clock on your bedside table can hurt your sleep as they emit what is known as blue light. 
All light can suppress the secretion of melatonin – the hormone that controls our day-night rhythm – in the evening and night-time, but blue light has a particularly pronounced effect and studies have shown that it's best avoided at night. Research has found that 2 hours on a device lowers melatonin (brain's body clock hormone) levels by 22% so no technology 2 hours before bedtime…….ok I know it's hard, at the very least one hour then.
8)Bedroom environment
While we do most of our sleeping in the dark, sleeping with your skin directly exposed to the sun in the morning, or during naps, can have a damaging effect on your skin's health and appearance — not to mention that sleeping in a lighted room can disturb sleep and sleep rhythms. Getting blackout curtains or making sure that your bed is out of the sun's direct line can help.
Using aromatherapy can help relax and calm you. Pour some Moor Lavender Calming Bath Essence in a small bowl in your bedroom, add very hot water, shut the door, allowing the aroma to disperse can settle you in for a good night's sleep.
Embrace healthy sleep as a way to healthy skin
An estimated $130 billion is spent globally on skin care products every year, including lotions, fillers, serums, and scrubs. Although we often spend a lot of time layering and lasering our skin, it is still important to pay attention to how we treat it while we sleep.
Maintaining your health in body, mind, and skin for years to come is more than just about looking youthful. It never hurts anyone to have some wrinkles - the fact is, wrinkles usually signify a life lived well.