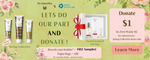 Contribute $1 When You Purchase These Products!
Caring for the Environment
Since 1967, Dr. Hauschka has pride themselves in producing 100% natural and organic skincare products and are one of the few cosmetic brands that hold a NATRUE certification - the highest standard in the industry to guarantee a brand is truly natural and organic. 

Being able to provide natural and organic cosmetics for everyone is important to Dr. Hauschka. However, being able to contribute to the conservation of our environment is also very important to them. Since the beginning, Dr. Hauschka has taken environmental protection seriously and is mindful about the need to reduce waste and energy consumption. Environmental Protection is seen as a responsible role, and this has prompted for four principles to be established, which are carefully followed in day-to-day operations.
The four principles are:
Gentle use of resources and use of natural raw materials, from dynamic organic cultivation where possible.

Gentle processing of these raw materials with recycling in mind.

Use of substances and ingredients made from sustainable raw materials.

Minimisation of resource consumption and, where possible, use of renewable energy sources.
With their very own medicinal herb garden where biodynamic methods are used to cultivate more than 150 different plant species, Dr. Hauschka has been able to replace 588 tons of mineral-oil based and microplastic infused chemicals with 100% biodegradable natural substances during the production of their cosmetics.
At the production facility, Dr. Hauschka has set in place a waste management system where the first priority is to avoid generating waste as much as possible. The second priority is to recycle any waste that has been generated. This means turning paper into paper and plastic into new plastic. The third priority is to dispose of waste that cannot be recycled in an environmentally-friendly way.
To allow for consumers to do their part in helping to reduce waste, Dr. Hauschka ensures that the products are packaged using recyclable materials - mainly glass, aluminium, and paper. For example, products such as the Rose Day Cream are packaged in an aluminium tube that is made using recycled industrial waste. This in turn helps to save energy by up to 95%. To prevent their product packaging from ending up in landfills, Dr. Hauschka aims to have at least 90% of their packaging materials to be recyclable by 2025.
Doing Our Part in Singapore
Here in Singapore, we feel inspired by Dr. Hauschka's environmental protection principles and the efforts they have made in Germany and would like to do our part in helping to reduce waste in Singapore and to be as environmentally-friendly as possible.
In the month of April, we observe Earth Day, an event that takes place annually to demonstrate support for environmental protection. For the year of 2022, the theme is "Invest In Our Planet" which communicates the need for all of us to do our part to solve the climate crisis.
As a company, we would like to do our part and at the same time, we would like you to join us as well! In line with Earth Day, we are launching our 'Go Green' campaign where we will be donating a portion of our proceeds to an environmental organisation who is working hard to transform Singapore into a zero waste nation.
Our beneficiary is none other than Zero Waste SG!
Zero Waste SG is a charity NGO leading the drive towards zero waste in Singapore through education and advocacy. Their key areas of focus are plastic disposables, food waste, household recycling and organisational waste. Donations to their charity go towards research and outreach efforts in these areas, raising awareness on the circular economy and engaging the public through campaigns, roundtables and panel discussions, and social and mainstream media.
We really admire what Zero Waste SG has done and achieved since their founding in 2008, and would like to support their efforts through a donation.
Limited Edition Spring Collection and Gift Sets Inspired By the Garden
Reap Benefits Through Recycling
For this month only, we would also like to reward you for recycling any of your empty product packaging from Dr. Hauschka! 
Follow these three simple steps, and get rewarded with free samples!
Step 1: RECYCLE
Firstly, collect your used Dr. Hauschka product packaging for the recycling process.
Step 2: RETURN
Bring your used Dr. Hauschka product that is ready to be recycled to our flagship store located in Star Vista.
Step 3: REWARD
Claim your samples from our staff and they will prepare samples suitable for your skin type!
So what are you waiting for? Let's do our part to achieve a greener future today!