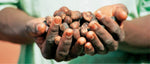 Empowering Women - Shea Butter from Burkina Faso
The shea butter for Dr Hauschka Skin Care comes from Burkino Faso. In 2001, we provided the stimulus for an organically certified project in the region around Diarabakoko in the south-west of the country. 2,200 women from 17 villages are today involved in the project and collect the shea nuts from several protected, organically certified collection areas.
Women's gold: Shea butter
The collectors in the project village of Diarabakoko independently organise themselves in a producer association. This is a women-only association, as is common and natural in Africa. Shea butter has always been a women's thing and only they are authorised to harvest the nuts. The women named their association 'IKEUFA' (Faire bien et meilleur de Diarabakoko), which can be roughly translated as: Do good and better things in Diarabakoko. Their earnings from the shea nut sales enable them to pay for their children's school fees – so that all of them, rather than just the lucky few can go to school. They are also able to pay for basic essentials like food and medicines.
Process within the country
After harvesting the nuts within the scope of the project, the women shell, dry and place them into interim storage in warehouses that are co-financed by WALA. The nearby organically certified company Agrifaso, with its head office in Bobo-Dioulasso, purchases the nuts and uses transporters to move them straight from the villages to its small processing unit. There, the shelled nuts are pressed under warm conditions and turned into shea butter. Agrifaso has 40 permanent employees, who ensure the continual production of the shea butter in consistently good quality. Finally, the raw shea butter is subjected to an organically certified refining process to reduce its highly characteristic natural odour.
The additional earnings from processing the shea nuts go to the children. The extra money enables them all to go to fee-charging schools.
Cultivating shea butter is women's business. WALA employee Christine Ellinger on a visit.
Like to try our Dr Hauschka skin care which is 100% natural and organic skincare? Below are some of Dr Hauschka's products made with shea butter - Dr Hauschka Rose Day Cream, Dr Hauschka Rose Nurturing Body Cream, Dr Hauschka Regenerating Neck and Decollete Cream, Dr Hauschka Firming Mask, Dr Hauschka Soothing Mask, Dr Hauschka Concealer, Dr Hauschka Lip Definer and Dr Hauschka Foundation which we have won the best of beauty buys in Women's Weekly 2020