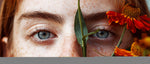 You wouldn't feed your body junk or processed food all the time, so why should your skin be any different? In our quest for supple, glowing and wrinkle-free skin, we come across an endless list of productions, each claiming to be the best there is. Conventional skincare products are often full of chemicals, preservatives and irritants that can upset the balance of your skin — even causing irreparable damage in the long run.
On the flipside, you've probably heard of organic skin care products which are safer, gentler and can restore the natural balance of your skin. You might have also heard of other, less flattering things about organic skincare — like how they're less effective, or how they're much more expensive than conventional products.
Well, we're here to compare organic versus conventional skincare products, and tell you why you should make the switch to organic.
Effective While Being Safe and Gentle for Your Skin
Conventional skincare products typically contain fragrance, preservatives and synthetic chemicals. While these products are manufactured for effective results, these results often come at the cost of harm to your skin. You might even find that your skin becomes worse if you stop using them. Conventional skincare products also contain potential irritants like sodium lauryl sulfate (SLS) or parabens that cause skin irritation, allergies or even adverse reactions.
Now, organic skincare is not free of irritants (you still need to be aware of what your skin will or will not have a reaction), but on the whole organic ingredients are considered much safer and gentler than their synthetic counterparts. This doesn't mean they're less effective! On the contrary, you'll find plenty of potent ingredients like antioxidants in organic skincare that'll help you achieve natural, glowing skin. Ethical and Environmentally-friendly Processes Certified organic skincare products and brands use naturally grown ingredients free from toxic pesticides and fertilizers. Cruelty-free organic products also avoid harming animal wellbeing in their production processes. When you choose to use an organic product, you're making a conscious decision to support practices that don't leave a harmful footprint on the planet and encourage a sustainable environment.
Better for Your Overall Wellbeing
Organic skincare products go beyond the surface to soothe and nourish your skin. Rather than simply working on the surface of your skin to smooth wrinkles or diminish blemishes, long-term use of organic ingredients like coconut oil, shea butter and aloe vera have well-documented benefits of helping your skin restore its natural balance.
Are Organic Products Really More Expensive?
The simple truth is that responsibly-sourced organic ingredients cost more time and effort to produce than man-made ones. Organic farms, for example, have to use alternative techniques that may have less yield in order to grow ingredients without the use of toxic pesticides. Organic products also require more expensive natural preservatives and use less "filler" ingredients.
However, that is not to say simple and affordable organic skincare products don't exist. Some brands help customers forgo expensive marketing bells and whistles to pass their savings onto the customers. So you have the option to read the ingredient list of an organic product and recognise everything you're putting onto your skin, rather than a list of chemicals you don't understand.
Make the Organic Switch with Dr Hauschka
If you're still on the fence, why not take small steps towards organic skincare by ordering a starter skin set from Dr Hauschka?
Dr Hauschka is an organic skincare brand focusing on effective natural compositions using highly effective, natural skin care ingredients that are responsibly cultivated. Our natural skin care products use special manufacturing techniques to harness the power of medicinal plants and natural raw materials, whose effects are regularly examined by our in-house specialists and external research institutions.
Visit our newest outlet at Parkway Parade, #B1-74 to enjoy special opening promotions up to 60% off! Choose from 4 starter skin sets for different skin conditions at just $14 (UP$28).