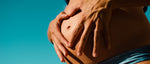 Why should pregnant women use organic and natural skin care products?
For all expecting mothers, ensuring that our child is in good health is our number one priority. However, most tend to overlook the impact that our beauty products have on our health. Most of the skin care we buy, no matter the price point, is made with synthetics and contains toxins that are not healthy for our bodies, let alone a growing baby. Although the effect of these may not be immediate, the growing number of cases of diseases contracted due to exposure to harsh chemical ingredients found in skincare today is definitely a concern. Dr.Hauschka skincare products are safe for pregnancy.
Some ingredients can be harmful for babies
Lead
Whether your favourite lipstick comes from a cheap drugstore or a high-end brand, approximately 76% of lipsticks contain lead. Lead during pregnancy can potentially cause problems such as miscarriage, preterm delivery, low birth weight and developmental delays in infants. Research has also concluded that even small amounts of lead can affect your unborn baby's learning and behavioral development. Furthermore, there is no maximum safe exposure limit, in part because lead accumulates in the body.
Parabens
Parabens are a synthetic toxin that is found in almost every unnatural product on the shelf. It is used as a preservative and can cause major irritation. They are also known to affect hormones levels as it mimics oestrogen, leading to different types of cancer. Paraben usage is also closely linked to miscarriages, impaired fetal growth, obesity, low birth weight, and behavioral problems.
It can be added directly in an ingredient (such as in fragrances) or can be found in the packaging but is still harmful as they will seep into our products and onto our skin.
Benzoyl Peroxide and Salicylic Acid
These ingredients are typically found in acne washes or spot treatments. During pregnancy, our bodies will go through an increased androgen production and hormonal fluctuations, causing sudden acne breakouts. Studies have shown some negative side effects in pregnancy such as birth defects and bleeding later and heavier in pregnancy.
Oxybenzone
Oxybenzone is a chemical filter used in sunscreen that can disrupt hormone levels, creating havoc for your mental state and skin. In some research studies, oxybenzone has been linked to low birth weight in infants, allergies, cell damage and can also affect your baby's heart health. Oxybenzone allows other toxic chemicals to absorb better into the skin and bloodstream. Pregnant women should read labels for lotion, skincare products, lip balm, lipstick, perfumes and even hair conditioners, especially those containing SPF. Additionally, the effects of sunscreen only last about half an hour in the sun so it is not always effective in protecting against sun damage. Therefore, it is better to use ingredients with natural sun protection properties such as shea butter or essential oils.
Aluminium Chloride
One of the most common ingredients in antiperspirants is aluminium chloride, something health professionals have been against for the last 40 years after a study linked it to Alzheimer's disease. Aluminium is also a known neurotoxin that has been linked to breast cancer. Furthermore, a study revealed that the skin under your arms have a 100% absorption rate of the chemicals applied on it so it's negative effects would have a greater impact.
Artificial Fragrances
Parfum or fragrance is usually written as one ingredient on the majority of our skincare products. However, they include over 500 separate ingredients and many companies create "secret formulas", allowing them to hide their full ingredients list, meaning we have no idea what type of toxins are added to them. Many of these chemicals and toxins have also been linked to causing a higher risk of developing skin conditions (like eczema) and can even be inhaled throughout the day by people who wear such beauty products.
Talc
Talc is a key ingredient in many baby powders and can cause irritation of the nasal tubes and lungs when inhaled. Women who apply talcum powder regularly in the genital area have an increased risk of ovarian cancer. However, Talc itself is safe to use externally as long it is asbestos-free (a naturally occurring component of talc) and not inhaled directly.
Flouride
In 2017, researchers measured fluoride levels in 300 women during pregnancy and in their children between the ages of 6 and 12 years. Higher levels of fluoride were associated with lower scores on IQ tests. Additionally, exposure to high concentrations of fluoride during childhood can result in mild tooth discolouration and thyroid problems. Although some may argue that there is only a small amount of fluoride in toothpaste, as it accumulates in the body, it is better to switch to fluoride-free products. Children below the age of 6 years should not use a mouthwash that contains fluoride and should be supervised when brushing their teeth to ensure they do not swallow toothpaste.
With all these harmful ingredients that are commonly found in most of our beauty products, we need to be increasingly conscious of what we use.
Laboratory tests have detected as many as 232 chemicals in newborns. This report produced hard evidence that children are being exposed, beginning in the womb, to complex mixtures of dangerous substances that may have lifelong consequences. Hence we should be more careful about what we use, especially during these crucial stages of our pregnancy.
Our bodies change during pregnancy
During pregnancy, hormones can fluctuate wildly. Higher levels of hormones called androgens are partly responsible for pregnancy breakouts because they can prompt the sebaceous glands in your skin to get bigger and boost production of an oily substance called sebum.
One of the most obvious changes to the skin is it will start to stretch, especially in areas such as the torso, lower back and breasts. These areas may be prone to stretch marks but the good news is, if you start early and use oils on the skin, you can greatly decrease the risk of experiencing any at all.
During pregnancy, oestrogen increases the length of the growing phase of hair follicles often resulting in a thicker and healthier looking head of hair. However, nails may also become more brittle and soft due to increased oestrogen levels.
Conversely, as oestrogen levels fall after giving birth, women tend to shed more hair. You might see clumps of hair falling out after a shower or brushing, which is a normal occurrence.
Most women find their hair returns to its normal growth and texture within four to six months after giving birth.
To prepare a woman for birth, the body secretes pregnancy hormones, including one known as relaxin, to loosen joints and ligaments. Relaxin not only relaxes ligaments in a woman's pelvis to prepare her for labour and delivery, but it also stretches joints and ligaments all over the body. This can lead to back pain and sciatica, or pain along the sciatic nerve — which starts in the lower back and runs through the backside and down the leg.
Another change in the skin during pregnancy includes stimulation of pigment-producing cells by female sex hormones so that they produce more melanin pigments (dark colored pigments). This type of pigmentation is increased with sun exposure and can be prevented by using natural SPFs.
After giving birth
Your vulva will most likely feel swollen and tender. Especially if you were given an episiotomy or experienced tearing. You may also have to keep your stitches clean. A sitz bath (a bath where the water level is up to your hips) will help keep your undercarriage clean and soaking will help soothe some pain.
Right after giving birth, your oestrogen and progesterone levels drop dramatically, which can contribute to mood swings and anxiety or postpartum depression (similar symptoms that are more intense, last longer and interfere with your daily life). It may also greatly affect your skin.
Breastfeeding
Products we put on our skin can be directly absorbed into our bloodstream as our skin absorbs about 60% of the lotions used on it. All the harsh chemical ingredients used in skincare have been proven to pass through to the placenta and into our breast milk. Although the amount of chemicals that enter your bloodstream vary based on the individual and type of chemical, it is better to simply change the kind of beauty products you use to an all-natural one to lead a healthier lifestyle and prevent contracting diseases in future, especially during pregnancy. Additionally, what you use on your skin can actually greatly affect the quality and quantity of your breastmilk. This is why while breastfeeding, you should still continue to use organic and natural beauty products.
Dr Hauschka's 100% Natural & Organic Skincare
No synthetic fragrances or dyes
No silicone oils
No ingredients from petrochemicals
No animal testing
No irradiation of end products
Sustainable production process
Tip: If you are choosing to use organic products during your pregnancy, then be sure to choose certified organic products. As there is no legal definition of the words 'natural' or 'organic' in beauty, which means products labelled with the terms may actually contain 0% natural or organic ingredients.
Safe, Natural Skin Care
Certified Natural
Dr. Hauschka has been 100% natural skincare brand for over 45 years and is certified natural by NATRUE, a non-profit, international organization founded by the pioneers of natural and organic cosmetics. NATRUE certification ensures that a product has met the strongest criteria available for natural and organic ingredients in cosmetics and is free of synthetic preservatives, fragrances, dyes and petroleum derived synthetics. To learn more about certification criteria, visit NATRUE.org.
How Dr Hauschka can help during & after pregnancy
Choosing skin care products safe for pregnancy and for babies to nurture…
For Babies
Bath Time:
Moor Lavender Calming Bath Essence is perfect for bath time, helping to keep skin soft and calm while promoting peace in the tub. Lavender essential oil soothes the minds of both mom and baby in preparation for a night's rest. Can also be added to a bowl of water for a room diffuser and inhaled to ease nasal congestion.
Rose Nurturing Bath Essence is mild enough for baby's sensitive skin. It cleans and nurtures delicate skin without drying, offering moisturizing protection with a natural floral scent from essential oils of rose.
On the Changing Table:
Lavender Body Oil or Rose Day Cream has natural calming properties, making it perfect for promoting restful sleep and protecting baby's skin from dryness for even sensitive skin. It also helps prevent nappy rash and acts as a natural mosquito repellent.
Rose Nurturing Body Cream featuring precious rose ingredients wraps baby's skin in protective warmth. Sensitive skin is hydrated and kept as soft as a rose petal.
Silk Body Powder This versatile, asbestos-free powder nurtures skin, keeping it dry and refreshed while providing a light, clean scent from botanical blends. It also helps prevent nappy rash.
For Teeth:
Our flouride-free toothpaste are safe even for consumption in case accidentally swallowed. Most suitable for babies
For Moms
Body Care during pregnancy:
Blackthorn Toning Body Oil provides warmth and protection while supporting elasticity. Helps minimize the appearance of stretch marks due to weight loss or gain.
Lavender Calming Body Oil helps combat stress and promote restful sleep. It prevents water retention and aids with decongestion. Can be used during labor to relieve labor pains.
Leg & Arm Tonic promotes circulation to rid water retention and instantly relieves muscle aches. Use with Body Oils for added moisture.
Body Care after pregnancy:
Eye Revive may be just what is called for when you're spending the wee hours tending to your little one. This herbal solution soothes and renews tired, puffy eyes.
Rose Nurturing Bath Essence is a nourishing formula that gently cleans and nurtures delicate skin with a natural floral scent from essential oils of rose. After giving birth, mummies can also use it in a sitz bath (bath where the water level is up to the hips) to soothe aches and keep their undercarriage clean.
Our fresh aluminium-free deodorant is safe to use during pregnancy and especially while breastfeeding.
Moor Lavender Calming Bath Essence soothes the minds of both mom and baby in preparation for a night's rest. Can also be added to a bowl of water for a room diffuser and inhaled to ease nasal congestion.
Skin Care:
Renewing Night Conditioner helps balance and calm skin post-pregnancy, restoring harmony during periods of skin imbalance or transition due to hormonal changes.
Coverstick is free of salicylic acids which are unsuitable for pregnancy. Our tea tree and manuka honey coverstick zaps away any spots for an even complexion while adding coverage
For different skin conditions, you may use other Dr Hauschka products not listed above. Attend our workshops or come down to our store to get a free skincare consultation!
Makeup:
Our Makeup range is completely free of harsh chemicals as they are formulated purely using healing plants grown in our own organic garden. Mineral pigments we use in the makeup are all natural pigments that do not clog the pores, do not look cakey and are very blendable.
Dr Hauschka's lipsticks made with rose and almond oils are a lead-free, edible formula that is safe to use throughout this crucial period
Foundation is free of harsh chemicals, with collagen building pomegranate and softening macadamia nut oils and coconut oils. It has a smooth, blendable medium coverage with a naturally radiant finish.
Dr. Hauschka products have a supportive effect during pregnancy and have been used safely and effectively for decades. All ingredients in Dr. Hauschka Skin Care products are subjected to comprehensive tests prior to their market launch to ensure that they are safe for use on the skin. During these tests, the ability to use the products during pregnancy and while breastfeeding is also taken into account. The proper use of the skin care products during pregnancy is generally safe providing the user is not allergic to any of the ingredients. If you have any specific questions or concerns, please consult your therapist or midwife.