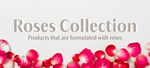 The QUEEN of medicinal plants: The Rose. The rose is an extraordinary plant in the truest sense of the world. It has sharp thorns, yet so magnificent, delicate flowers. It has a firmly rooted, solid root system but also a beguiling scent. You could say the rose moves between opposites, combining these polarities through harmonious balance. It likes to unfurl these properties, which also lead to its use as a medicinal plant. 
To date, over 400 different substances have been identified in essential rose oil alone. These are furthermore tannins, liquids, waxes and resins, which can also be used for cosmetics. This huge diversity has a balancing, normalising effect on the skin. 
At Dr Hauschka, rose can be found in many of our products. Here are some of our personal favourites. 
Rose Nurturing Body Oil
Harmonising, strengthening care for the skin and mind.
There are times when your skin and mind  long for harmonising, strengthening care.  Promote a sense of balance and well-being  with this delicate, nourishing body oil. Our  Rose Nurturing Body Oil helps to strengthen  and balance your skin while helping to soothe mental exhaustion and nervousness. This oil is even suitable as a baby body massage oil for your baby's skin to feel nourished and soft. 
Rose Day Cream Light
Hydrates, harmonies and soothes the skin
Rose Day Cream Light transfers to your skin the invigorating powers of the rose to nourish hydrate and protect dry, sensitive skin for a calm, even and balanced complexion.This award winning moisturiser protects your skin against dryness to support an even, balanced complexion. This is an ideal moisturiser for those with sensitive, normal, dry and irritated skin. 
Soothing Day Lotion
Soothes your redness skin
Soothes your sensitive skin with this moisturising lotion especially suitable for skin prone to redness. This   lightweight moisturiser strengthens sensitive skin and makes it more resilient. The silky-smooth texture also   absorbs quickly making it an ideal base for make-up. 
 
Renewing Night Conditioner
Renew, Radiate & Refine
Dr. Hauschka Skin Care's oil-free approach to nighttime skin care regards the skin's inborn intelligence. Overwhelming, sleek night creams don't permit the skin to "breathe" and can hinder the skin's normal capacities when it is most dynamic. Treat your skin with medicinal plants and silver for 4 weeks, and instantly you can see the renewal of skin, it is that powerful!
 
Firming Mask
Creates a tone up complexion, while enriches and activates
As we age, the skin's renewal slowed and it loses elasticity and resilience. Firming Mask protects and fortifies, minimising the appearance of fine lines and wrinkles whereas sustaining and hydrating for smooth, supple, enlivened skin. Rose, rose petal extract, rose wax, rose essential oil plays a big part to support your skin elasticity to enliven and replenish! 
 
 
Hydrating Cream Mask
For dry, stressed skin   
Hydrating Cream Mask gives more than fair moisture boost, and is the perfect cure in the event that your skin is feeling dry, sensitive and in require of regeneration. The Hydrating Cream Mask not only secures your skin, but moreover enacts its claim, characteristic powers to hold moisture. This empowers you to economically secure your skin from lack of hydration and irritating environmental influences. 
Lip Care Stick
Hydrate, Smoothes and Popping!  
Our Lip Care Stick is packed full of nourishing oils and waxes to keep your lips smooth & delicate all through the day. This down to earth and important companion is continuously on hand to provide nourishment and protection against dryness, wind and cold. The practical companion for sleek delicate lips whereas out.  
Regenerating Eye Cream
Prevents wrinkles, smooths & firms the eye area  
Regenerating Eye Cream underpins the skin's natural regenerative capacities, smoothing and refining the fragile skin around the eyes whereas working to diminish premature signs of ageing.
Reduce wrinkles, protects and regenerates
With its rich and velvety consistency, our Regenerating Day Cream provides care and assurance you'll be able to feel. This day cream for mature skin combines defensive, stabilising and regenerating properties for all-round skin care that leaves your complexion radiant and smooth.    
Regenerating Intensive Treatment
Firms, Counteracts dryness and wrinkles, Radiant skin