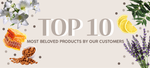 "My favourite Dr. Hauschka product! Even when I skip moisturiser, the minerals in the
  toner would keep my face moist till the morning."
 
  Lee Hui Khee
"I can't live w/o it! Cleansing Cream is one of my favourite which makes my skin  
soft, smooth, calm, moisturise + reduces blackheads!" 
山崎なつ子  
  "Best product I've ever put on my skin! I've been using (as needed) for almost 5 years."
  Marsha
"Well worth it! Got rid of some dry flaky skin on my eye lid only after 2 uses."  
Teresa  
  "LOVE this! It smells wonderful and feels gentle and soothing as well as nourishing to
  my scalp."
"Lavender does wonders for your senses and let me sleep like a baby…"  
Anthony  
  "Treats and conceals all at once! Hands down BEST TREATMENT for pimples, acne and
  blemishes."
"Happiness it is! I have oily, combination skin prone to breakouts. After using this, my  
skin has vastly improved due to a reduced amount of oil."  
Meagan Tan 


  "Clean and fresh! With clarifying clay mask the results are immediate! My skin had a
  healthier glow and it felt clean and very smooth."
  Tan SK


"This is perfect to use in the morning after a shower. Refreshes my skin and the. 
scent gets one off to a great mood."  
Justin