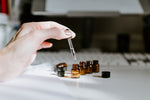 Dr. Hauschka produces only 100% natural and organic face, body, and hair care products. However, customers are sometimes taken aback when they see chemical terms listed in our ingredient list. We completely understand the concerns and questions that may be raised by our customers, which is why we would like to take the time to explain what these ingredients are and whether they are safe to use on our skin.
In this article, we will be giving you a quick rundown on what Benzyl Benzoate is and why it is found in some of Dr. Hauschka's products.

Benzyl Benzoate is made up of Benzyl Alcohol and Benzoic Acid and can be found in both natural and synthetic forms. In its synthetic form, it is often used in many cosmetic products as it can act as a fragrance, preservative, or solvent. In some cases, Benzyl Benzoate is used as an insecticide due to its ability to fight insects or as a topical treatment for pediculosis and scabies. However, it comes with a number of side effects, including skin irritation.
Products from Dr. Hauschka such as the Regenerating Serum and Eye Cream contain Benzyl Benzoate. But fret not! The Benzyl Benzoate that is found in some of Dr. Hauschka's products is a naturally-occurring component of the essential oils used such as Jasmine oil and Ylang-Ylang oil. Due to EU Cosmetics Regulation, Dr. Hauschka is required to list 26 fragrance compounds such as Benzyl Benzoate separately instead of just classifying it under 'Fragrance' as it is a potential allergen. An asterisk is used to denote that these ingredients originate from natural sources.

All Dr. Hauschka products are manufactured in accordance with the strict requirements of the EU regulation 1223/2009 on cosmetic products. According to this regulation, cosmetic products may only be put on the market in the EU if they have undergone a safety assessment, which confirms that the products are safe to use. This also includes the assessment of all ingredients like essential oils and their naturally-occurring components such as Benzyl Benzoate.

Since the Benzyl Benzoate present is of natural origin and at a very low concentration, it will not irritate your skin and is completely safe to use unless you have an allergy towards it. Benzyl Benzoate is never added as an isolated substance. If you are concerned, you can always do a small patch test on your inner arm to see how the product reacts with your skin.
Examples of Dr. Hauschka Products Which Contain Benzyl Benzoate

- Eye Make-Up Remover
- Tinted Face Sun Cream SPF 30
- Lip Balm
- Lavender Sandalwood Calming Body Cream